Join Bartz Brigade – The Trent Bartz Foundation – in honoring everyone that has been lost to suicide.
Sunday, September 25, 2022 at John Wright Restaurant
3:00 PM – 6:30 PM
John Wright Restaurant
234 N. Front Street
Wrightsville, PA
Note: Restaurant will be closed to the public.
Release a butterfly in honor of your loved one while supporting suicide education and prevention in York County.
We will be honoring Corporal Trent Bartz's (USAR) 7th heavenly birthday.
FOOD
By Hinder Hogs and Broken Goat Brewing
Smoked pulled pork sandwich, mac & cheese, baked beans, bottle of water $15
Sandwich $9
Butterfly $10
MUSIC and RAFFLES
Enjoy music by Pitch Perfect Entertainment and corn hole. Bring lawn chairs and your easy-up canopy.
TICKETS $22
Includes Meal and a Butterfly.
DONATE AN ITEM FOR THE BASKET RAFFLE
Thank you in advance for providing a good/or service for our annual raffle. Your donation could be tax deductible. Our official business name: Bartz Brigade the Trent Bartz Foundation EIN# 84-4293729.
To donate an item to the raffle, submit this registration form.
SPREAD THE WORD
Share the Event Flyer!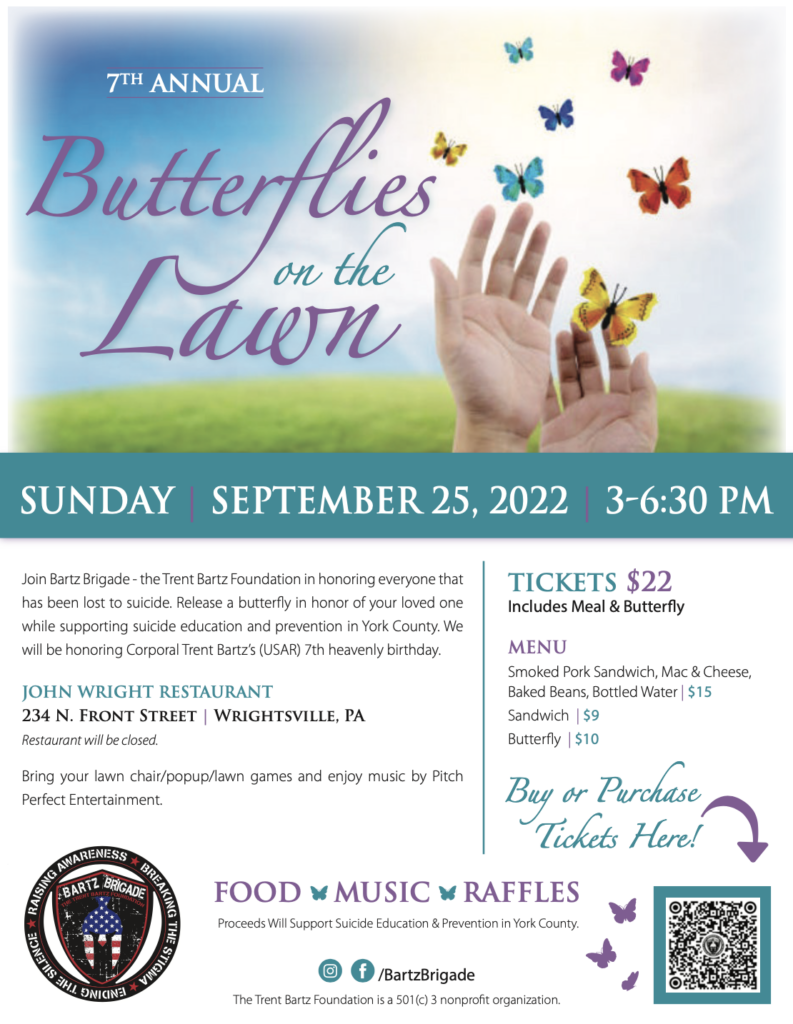 Proceeds Will Support Suicide Education and Prevention in York County.